"The Lifetimes When Jesus and Buddha Knew Each Other is a Masterpiece.
Aside from A Course in Miracles, I don't know of any other book that comes as close to speaking in the clearest of terms about the truth of who we are and what is our purpose here "
~ Gabriela Ilie, PhD, Professor in Community Health and Epidemiology at Dalhousie University, Faculty of Medicine, Halifax, Nova Scotia
"A book that is destined to be one of the most significant contributions to spiritual literature in this century. The message in Gary Renard's The Disappearance of the Universe is of great importance to the healing of ourselves and our planet."
~ Dr. Wayne Dyer, author, Wishes Fulfilled: Mastering the Art of Manifestation and The Shift

"Gary's willingness to share his personal forgiveness lessons makes Your Immortal Reality a delightfully readable story bubbling with lots of laughter. It is also the most revealing and sacred book ever written about ancient spiritual mysteries."
-Venture Inward Magazine, the magazine of the Association for Research and Enlightenment (The Edgar Cayce Group)
"Love Has Forgotten No One is not really a book. Rather it's a portal, a transport system, a re-arranging of the mind. When you've finished reading it, I believe you'll be closer to knowing your True Nature. All that, and Gary's funny too!"
Ron Hulnick, Ph.D., President - University of Santa Monica, Co-Author with Dr. Mary R. Hulnick of Loyalty to Your Soul: The Heart of Spiritual Psychology
"These are great books."
~ Will Arntz, the director of the movie What the Bleep Do We Know?
Hi Friends. Cindy and I are now doing online classes based on A Course in Miracles and our books! The purpose of these classes is to speed your path to enlightenment. This will be a process. If you've missed any classes you can catch up via the recordings. All the information you need is available at the following link. We hope to see you online!

New Online Classes Link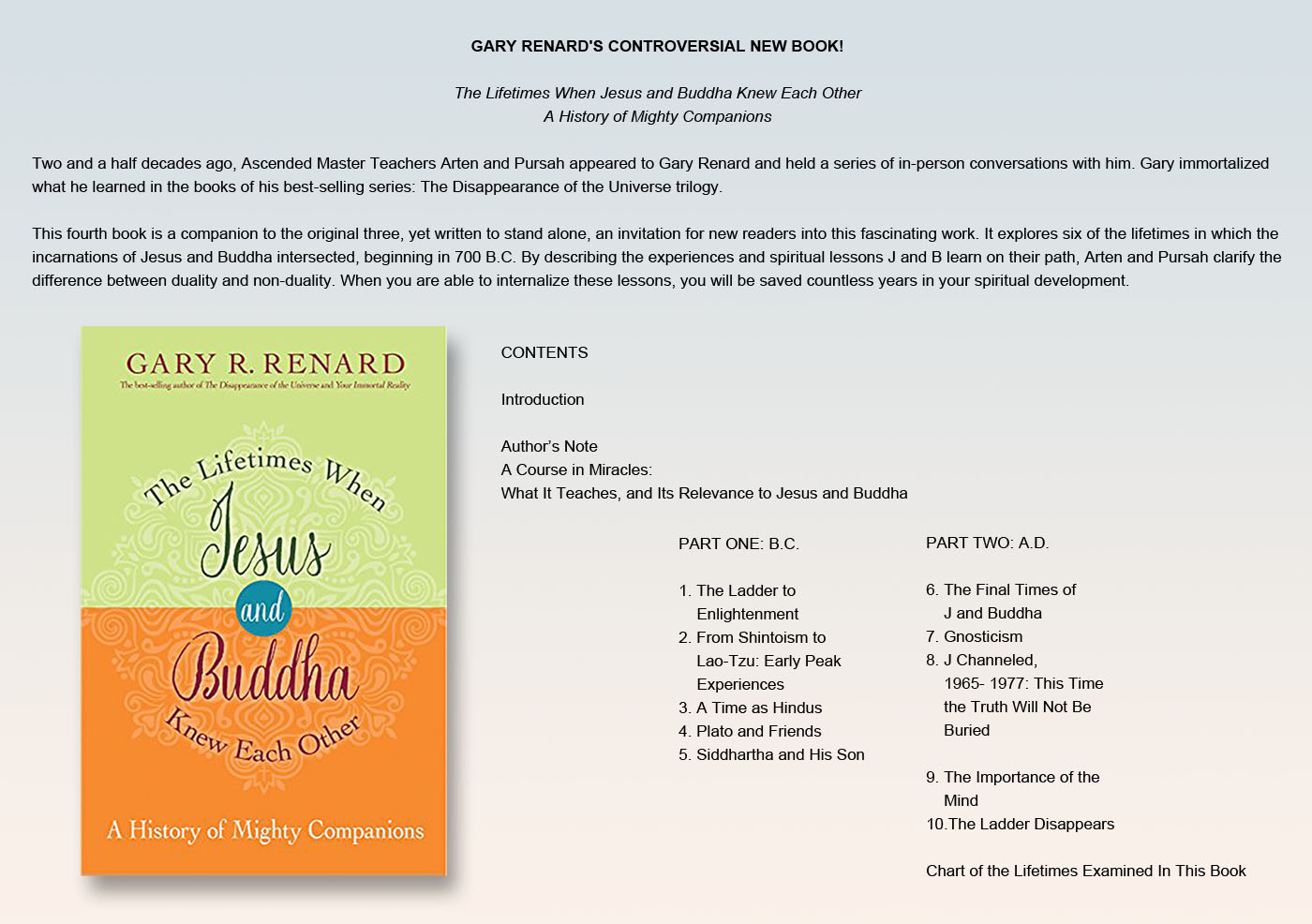 WHAT WORKSHOP PARTICIPANTS ARE SAYING ABOUT
GARY R. RENARD AND HIS APPEARANCES

"For several days I've been trying to put my "finger" on what could account for the seeming timeless, effortless experience of your seminar on Saturday that clearly transcended the usual bodily objections that arise in these extended sittings. It was pure flow, and I and others could have continued in the receiving mode without objection, it being so very inspiring and deepening in us. After trying out the many possible explanations for our experience I hit upon the idea of "spiritual authority." That gave me the resonant signal. You were speaking as "one who had spiritual authority," as did Jesus and others. Because you shared from such a knowing place, with such calm confidence, our experience was extraordinary receptivity and a suspension of the bodily/mind resistance that often arises when the teachings are external to a teacher's awareness. That's my assessment, for what it's worth – you know inquiring minds want to know! Thank you again for an extraordinary weekend. We love and bless you and Cindy, and affirm you will continue to answer the call that will feed the many who hunger for what you share so wonderfully."
Rev. Larry Schellink, Unity of Davis, California

"Gary R. Renard is the A Course in Miracles speaker and author in highest demand today. So many people have become ACIM students through Gary's engaging works. His teaching is uniquely in-depth and entertaining as he speaks from the heart, and the "street." Simple and effective." 
- Kelli McGowan, Marin County, California
About Gary R. Renard

Gary R. Renard, is the best-selling author of The Disappearance of the Universe, Your Immortal Reality, Love Has Forgotten No One, and his newest book, The Lifetimes When Jesus and Buddha Knew Each Other, all published by Hay House. He was born on the historic North Shore of Massachusetts, and became a successful professional guitar player, but during the harmonic convergence of 1987, he heard a Calling and began to take his life in a different direction. At the beginning of the 1990s, he moved to Maine, where he underwent a powerful spiritual awakening. As instructed, he slowly and carefully wrote Disappearance over a period of nine years. In the fall of 2003, after much encouragement from other speakers and students, Gary began to present talks and workshops in public. His speaking career took off remarkably fast, and today he lectures internationally. Combining a disarming sense of humor with radical, cutting-edge metaphysical information and experiential exercises, this acclaimed teacher of A Course in Miracles has been described as one of the most interesting and courageous spiritual speakers in the world. 

During the last few years Gary has been busy teaching (and sometimes introducing) A Course in Miracles in 31 countries and 44 states, with multiple visits to many of those countries and states; He's done hundreds of radio and print interviews, appeared in 7 documentary movies, recorded 50 podcasts, won the Infinity Foundation Spirit Award, had at least 30 videos at Youtube, recorded 3 audio CDs for Sounds True, (one of them 7 plus hours which was unedited) plus a music CD and a Meditation CD with Cindy Lora-Renard, filmed several DVDs, gotten divorced, moved from Maine to California, and gotten married again; is developing a TV Series based on his books, wrote the pilot script for the TV Series (along with Eylisa Skye) plus a 7 year Treatment, answered thousands of e-mails, written the Forewords for 7 books, developed the largest A Course in Miracles study group in the world (The DU Discussion Group at Yahoo), had his books published in 22 languages, including on Mainland China, where he has traveled to speak twice, and has also began to make more time for writing. Gary's fourth book was published in November to much critical acclaim.

CURRENT NEWS: To find out where he's going next, check his event schedule. You can keep up with special announcements by bookmarking THIS page.You can also subscribe directly to Gary's personal list for occasional announcements, by clicking this "Join Email List" link . Please note that Gary is usually very busy with travel and writing tasks and cannot respond to personal e-mail inquiries. He does participate sometimes in the Yahoo discussion group (see below).

TALK AMONGST YOURSELVES: Join thousands of readers of THE DISAPPEARANCE of the UNIVERSE and YOUR IMMORTAL REALITY in a lively, ongoing discussion of the books and A Course in Miracles at the Yahoo discussion group. Gary posts messages here when he has the time. 

BULK ORDERS: If you need a special order of multiple copies of either title (discounts are given), please contact Anna, the assistant manager of the customer care department at Hay House. She can be reached by calling 800-654-5126, ext. 102, or by e-mailing  aalmanza@HayHouse.com. 
Join Gary and Cindy in saying "no to aging" with the supplement MAX! This is the 
ONLY food supplement and the ONLY non-ACIM related product that Gary endorses.
(Note: MAX works best when used in combination with forgiveness.) 
Read Bob Rosenthal's Review of "A Course of Love" 
---

Dr. Kenneth Wapnick and Gary Renard during Gary's first trip to California in 2004. Ken and Gary met in Roscoe, New York in 1998 and were friends until Ken's transition in 2013. When he was asked during a class about The Disappearance of the Universe, Ken said in public, "The book does not alter the meaning of the Course, and it has helped a lot of people." That is the only time Ken ever commented publicly about another Course teacher's work. In order to not show favoritism, it has always been the policy of both The Foundation for A Course in Miracles and The Foundation for Inner Peace, publishers of the Course, that they do not endorse anyone else's books. So Ken's public comment was surprising.
| | |
| --- | --- |
| | |
"Most people familiar with A Course in Miracles learned of it through Marianne Williamson and, more recently, Gary R. Renard, both best-selling authors of spiritual books. "The Colorado Gazette

The Combined Volume, Third Edition of A Course in Miracles is the only edition that contains in one place all the writing that Dr. Helen Schucman, its Scribe, authorized to be printed. It is published solely by The Foundation for Inner Peace, the organization chosen by Dr. Schucman in 1975 for this purpose.
This Combined Volume also includes the Supplements to A Course in Miracles: "Psychotherapy: Purpose, Process and Practice" and "The Song of Prayer." These sections are extensions of the Course principles, which were dictated to Dr. Schucman shortly after she completed A Course in Miracles.